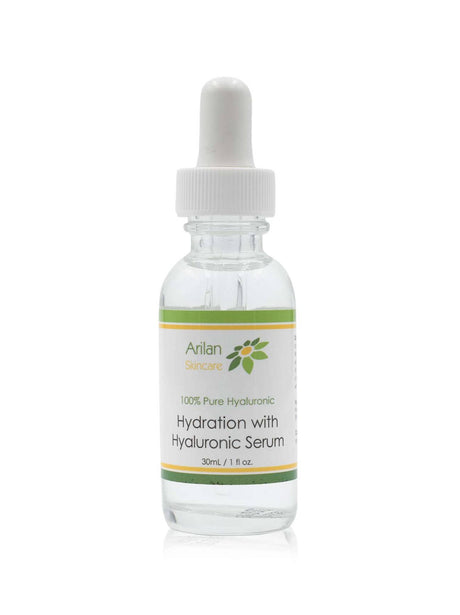 Hydration with Hyaluronic Serum
100% HYALURONIC 
Vegan ✅ Cruelty free ✅ 1OZ
The moisturizing benefits of Hyaluronic acid are well known. As a natural compound found throughout the body, its character and compatibility with the skin are unparalleled. It is one of nature's great moisturizers.
Hyaluronic acid takes in moisture from the surrounding air and uses it in various ways to protect and keep the skin well hydrated.
Arilan's Hydration with Hyaluronic Serum is 100% Hyaluronic combines two Hyaluronic molecules with different molecular weights Hyaluronic Acid: Low & High (LH) into one intense moisturizing serum that utilizes the unique characteristics and benefits of these two types of Hyaluronic Acid.

benefits
• Replenishes the skin's Hyaluronan levels 

• Helps restore critical moisture balance 

• Reinforces the skin's natural cell proliferation 

• Helps protect the skin from harmful 
environmental agents 

• Softens and smoothes for a healthier 
appearance 

Ingredients:
Purified Water (Aqua), Hyaluronic Acid High Molecular Weight, Hyaluronic Acid Low Molecular Weight, Phenoxyethanol, Ethylhexylglycerin.

directions
Apply to skin in a thin layer and allow to dry. For the best results follow with a layer of Arilan Hydration with Hyaluronic Cream.